Ranking System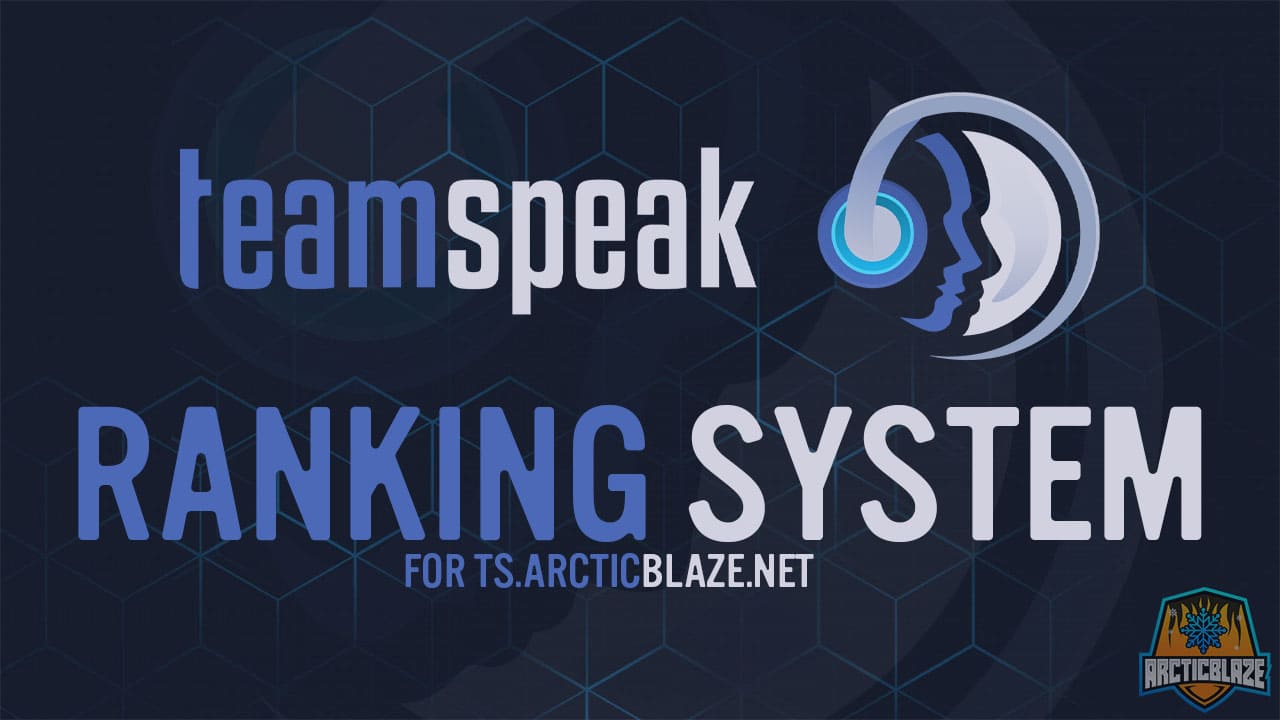 What is the ArcticBlaze ranking system?
The ArcticBlaze rank system is a level system on the ArcticBlaze Teamspeak, which automatically adds and removes a server group. These server groups are level.
Currently the ArcticBlaze Teamspeak has Level 1 – 100. In the future, we may be adding more levels. 
Since when does the ArcticBlaze ranking system exist?
The Ranksystem exists since 28.04.2018 at the ArcticBlaze Teamspeak.
Rewards
Our Ranksystem also has a reward system. However, we made an extra post for this.
Overview of the rank website 
Another feature of the ArcticBlaze Ranksystem is the ranking website. There you will find a lot of statistics about the ArcticBlaze Teamspeak regarding the Levelsystem.
The ArcticBlaze ranking system also has a ranking list that you can look for. The ranking is sorted by level and speaking time. For example, you can see the most active players there. Furthermore there is also a subscoreboard for the top users of the week and the top users of the month. 
It is much more important, however, that you can also see your own statistics and the process you need for the next level. Please make sure that you have to be connected to our Teamspeak in order for this to work.
Another feature of the ranking website is that you can set game groups yourself. They don't bring you much in themselves. They should only show other people what kind of games you like to play. In addition, the number of game channels changes because more users have the game group.
Commands
You can message the Rankbot with !Nextup to get more information about your next level UP.
Level-Onlinetime List
The time shown here will take you to get the next rank.
The times are already added up.
Active time is when you talk. The next 30 seconds are added to it.
Level 01 – 10 seconds

Level 02 – 5 minutes 10 seconds

Level 03 – 10 minutes 10 seconds

Level 04 – 15 minutes 10 seconds

Level 05 – 20 minutes 10 seconds

Level 06 – 30 minutes 10 seconds

Level 07 – 40 minutes 10 seconds

Level 08 – 50 minutes 10 seconds

Level 09 – 1 hour 10 seconds


Level 10 – 1 hour 10 minutes 10 seconds
Level 11 – 1 hour 30 minutes 10 seconds

Level 12 – 1 hour 50 minutes 10 seconds

Level 13 – 2 hours 10 minutes 10 seconds

Level 14 – 2 hours 30 minutes 10 seconds

Level 15 – 2 hours 50 minutes 10 seconds

Level 16 – 3 hours 20 minutes 10 seconds

Level 17 – 3 hours 50 minutes 10 seconds

Level 18 – 4 hours 20 minutes 10 seconds

Level 19 – 4 hours 50 minutes 10 seconds

Level 20 – 5 hours 20 minutes 10 seconds
Level 21 – 6 hours 20 minutes 10 seconds

Level 22 – 7 hours 20 minutes 10 seconds

Level 23 – 8 hours 20 minutes 10 seconds

Level 24 – 9 hours 20 minutes 10 seconds

Level 25 – 10 hours 20 minutes 10 seconds

Level 26 – 12 hours 20 minutes 10 seconds

Level 27 – 14 hours 20 minutes 10 seconds

Level 28 – 16 hours 20 minutes 10 seconds

Level 29 – 18 hours 20 minutes 10 seconds

Level 30 – 20 hours 20 minutes 10 seconds
Level 31 – 1 day 20 minutes 10 seconds

Level 32 – 1 day 4 hours 20 minutes 10 seconds

Level 33 – 1 day 8 hours 20 minutes 10 seconds

Level 34 – 1 day 12 hours 20 minutes 10 seconds

Level 35 – 1 day 16 hours 20 minutes 10 seconds

Level 36 – 2 days 20 minutes 10 seconds

Level 37 – 2 days 8 hours 20 minutes 10 seconds

Level 38 – 2 days 16 hours 20 minutes 10 seconds

Level 39 – 3 days 20 minutes 10 seconds

Level 40 – 3 days 12 hours 20 minutes 10 seconds
Level 41 – 4 days 20 minutes 10 seconds

Level 42 – 4 days 12 hours 20 minutes 10 seconds

Level 43 – 5 days 20 minutes 10 seconds

Level 44 – 5 days 12 hours 20 minutes 10 seconds

Level 45 – 6 days 20 minutes 10 seconds

Level 46 – 6 days 16 hours 20 minutes 10 seconds

Level 47 – 7 days 8 hours 20 minutes 10 seconds

Level 48 – 8 days 20 minutes 10 seconds

Level 49 – 8 days 16 hours 20 minutes 10 seconds

Level 50 – 9 days 8 hours 20 minutes 10 seconds
Level 51 – 10 days 8 hours 20 minutes 10 seconds

Level 52 – 11 days 8 hours 20 minutes 10 seconds

Level 53 – 12 days 8 hours 20 minutes 10 seconds

Level 54 – 13 days 8 hours 20 minutes 10 seconds

Level 55 – 14 days 8 hours 20 minutes 10 seconds

Level 56 – 15 days 18 hours 20 minutes 10 seconds

Level 57 – 17 days 4 hours 20 minutes 10 seconds

Level 58 – 18 days 14 hours 20 minutes 10 seconds

Level 59 – 20 days 20 minutes 10 seconds

Level 60 – 21 days 10 hours 20 minutes 10 seconds
Level 61 – 23 days 8 hours 20 minutes 10 seconds

Level 62 – 25 days 6 hours 20 minutes 10 seconds

Level 63 – 27 days 4 hours 20 minutes 10 seconds

Level 64 – 29 days 2 hours 20 minutes 10 seconds

Level 65 – 1 month 1 days 20 minutes 10 seconds

Level 66 – 1 month 3 days 12 hours 20 minutes 10 seconds

Level 67 – 1 month 6 days 20 minutes 10 seconds

Level 68 – 1 month 8 days 12 hours 20 minutes 10 seconds

Level 69 – 1 month 11 days 20 minutes 10 seconds
Level 70 – 1 month 13 days 12 hours 20 minutes 10 seconds

Level 71 – 1 month 16 days 16 hours 20 minutes 10 seconds

Level 72 – 1 month 19 days 20 hours 20 minutes 10 seconds

Level 73 – 1 month 23 days 20 minutes 10 seconds

Level 74 – 1 month 26 days 4 hours 20 minutes 10 seconds

Level 75 – 1 month 29 days 8 hours 20 minutes 10 seconds

Level 76 – 2 months 3 days 6 hours 20 minutes 10 seconds

Level 77 – 2 months 7 days 4 hours 20 minutes 10 seconds

Level 78 – 2 months 11 days 2 hours 20 minutes 10 seconds

Level 79 – 2 months 15 days 20 minutes 10 seconds

Level 80 – 2 months 18 days 22 hours 20 minutes 10 seconds
Level 81 – 2 months 23 days 16 hours 20 minutes 10 seconds

Level 82 – 2 months 28 days 10 hours 20 minutes 10 seconds

Level 83 – 3 months 3 days 4 hours 20 minutes 10 seconds

Level 84 – 3 months 7 days 22 hours 20 minutes 10 seconds

Level 85 – 3 months 12 days 16 hours 20 minutes 10 seconds

Level 86 – 3 months 18 days 6 hours 20 minutes 10 seconds

Level 87 – 3 months 23 days 20 hours 20 minutes 10 seconds

Level 88 – 4 months 5 days 20 minutes 10 seconds

Level 89 – 4 months 10 days 14 hours 20 minutes 10 seconds

Level 90 – 4 months 17 days 6 hours 20 minutes 10 seconds
Level 91 – 4 months 25 days 6 hours 20 minutes 10 seconds

Level 92 – 5 months 4 days 20 hours 20 minutes 10 seconds

Level 93 – 5 months 4 days 20 hours 20 minutes 10 seconds

Level 94 – 5 months 16 days 6 hours 20 minutes 10 seconds

Level 95 – 6 months 2 days 7 hours 12 minutes 10 seconds

Level 96 – 6 months 15 days 11 hours 16 minutes 50 seconds

Level 97 – 7 months 3 days 21 hours 16 minutes 50 seconds

Level 98 – 7 months 6 days 16 minutes 50 seconds

Level 99 – 8 months 8 hours 16 minutes 50 seconds

Level 100- 8 months 28 days 16 minutes 50 seconds